Protecting Your Assets: Identifying and Avoiding Spoofed Website Domains
July 22, 2022
Cybercrime is on the rise, and one popular method that is being used to obtain sensitive information from individuals is domain spoofing.
Domain spoofing is deceptively simple and relatively common. Attackers register a website domain to something similar to that used by a legitimate business or financial institution. The fraudulent domain name may contain a slightly different spelling or use characters that are difficult to differentiate, such as using the number "1" to represent a lowercase "L." See the example below: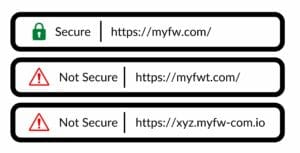 At first glance, these spoofed domains may look authentic, but after a closer look, you will find that the spelling or punctuation of the domain is not the same as the real one. Cybercriminals attempt to collect sensitive information from individuals by catching them off guard and tricking them into thinking the domain is real. Spoofed domains typically are placed in a phishing email sent to you from a trustworthy organization.
After clicking the link, unsuspecting users may be presented with a form asking them to "verify" their personal or financial information, such as credit card or checking account numbers and passwords. Overall, domain spoofing is a type of phishing attack, which tries to get you to divulge personal information by "baiting" you with false or fraudulent information. When caught off guard, it is easy to think that the email and link are genuine, but if you do enter personal information on a spoofed domain, trying to recover any losses can be difficult.
Protecting Yourself from Spoofed Domains
Protecting your personal and financial information is critically important. You can protect your information and assets by using the following methods of identifying and avoiding domain spoofing attacks.
Always carefully check the email or website address. Take a close look at any letters, characters, or spellings that seem out of place or incorrect.
Ensure a website has a secure connection. This can be verified by seeing a padlock symbol in the address bar, usually to the left of the website address. The website address should also start with "https" instead of just "http." The "s" indicates an encrypted, secure connection.
Never click on a link in an email. Even if the domain name or website address appears to be correct and familiar, it can still link to a spoofed or fraudulent website. If an email looks to be from a bank or a business, go directly to their website or contact a trustworthy representative.
Never click on a link on LinkedIn, Facebook, or other social media platforms. Social media can also house fraudulent or spoofed domains. Clicking a link on a website or social media post is the same as clicking the link in a phishing email and can bring the same risk.
Take Domain Spoofing Prevention to the Next Level
If you are receiving an email you believe is fraudulent you can typically report these to your email or internet service provider. Many email clients will have a menu item specifically for reporting these emails. Domain spoofing is a phishing attack so if you receive an email with a spoofed domain link, report it to alert your email company and decrease the number of phishing emails you receive.
When in doubt, you should always contact your banking services provider directly. They will be able to offer specific assistance and verify whether an email or other communication originated from them. Cybercrime is a serious concern but, in many cases, can be easily avoided if you are aware of what types of attacks are occurring and how to look for them. Extra care may be all it takes to keep your financial and other sensitive information safe.